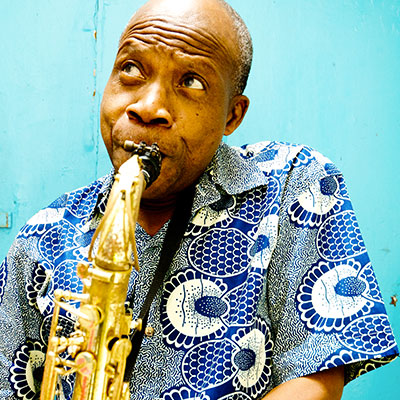 Orlando Julius
« Orlando » Julius Aremu Olusanya Ekemode was born in 1943 in the Osun state of Nigeria. He first learned of his musical talent studying and playing drums and flute in school, but found his true love in the sounds of the alto saxophone. As early as 19, he was involved professionally in music as both bandleader and as a « Top Ace » with Eddy Okunta's popular band in Lagos. He immersed himself not only in the highlife style of the time but also in the complex sounds of Charlie Parker and John Coltrane drifting in from overseas. In 1964, he released his first massive hit single with his newly formed Modern Aces. As OJ's popularity began to rise to extreme proportions, he became increasingly influenced by the soul music that came to dominate American airwaves in the mid-sixties..
he spent many years in the United States working on collaborations with Lamont Dozier, the Crusaders, and Hugh Masekela. His 1966 effort, Super Afro Soul, made him a national celebrity in Nigeria and even went so far as to influence music in the United States. The record's dramatic, highly melodic incorporation of soul, pop, and funk was very much ahead of its time, and some say that Super Afro Soul helped shape the funk movement that swept over the United States in subsequent years. After Super Afro Soul, Julius released a long list of records exclusively in Nigeria and from them received a great amount of local fame.
In 1976 he recorded this Disco Hilife session with 12 musicians .