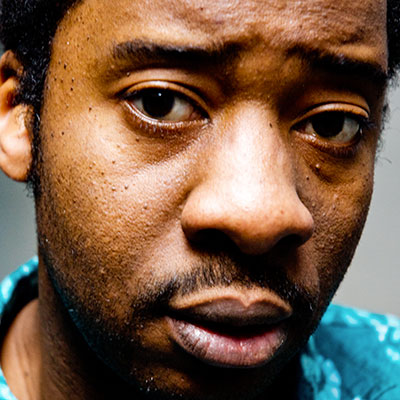 Franck Biyong
Born of Cameroonian Parents in 1973, Franck BIYONG was attracted to music at a very early age. He spent most of his childhood in West Africa (Gabon, Nigeria, Ivory Coast) where he learned music. He initially attended piano lessons but liked better drums, percussions and rhythms that he heard everywhere (« my first real musical shock ») while he was a youngster. The roots of MASSAK's sound can be traced back then.
He left Africa at the age of 14, discovering new musical landscapes as he settled with his family in Europe. He switched to bass, then finally guitar and joined his first bands. In the meantime, he started recording and submitting his first demo tapes to various French and European labels. His works obtained better reception in England where he then settled for a couple of years and found inspiration in the dynamic newly born Brighton electro scene.
After FELA's death in 1997, Franck decided to return to France and pursue the musical struggle of the Black President in his own way. He formed his band MASSAK, launched the AFROLECTRIC MUSIC PRODUCTIONS label and released his first records.Operating like an ever changing musical ensemble, MASSAK performed all over France and Europe for the last ten years with occasional trips to North America (Montréal Jazz Festival, Hothouse in Chicago, Floydfest in Virginia, SOB's in New York) and performed live with big names of the music scene (Keziah Jones, Cheick Tidiane Seck, Tony Allen, David Murray, Omar…)
As Franck's reputation kept growing, he released his crossover Afrobeat songs as singles. Distributed by some of the most influent independent labels (Hot Casa, Favorite, Wagram, BBE, Kindred Spirits, Groove Attack, Modiba, Soul Fire and Truth & Soul) these recordings helped him to gain more and more attention for his « Afrolectric Sound ».
Franck and Massak produced 6 albums including the Afro pop influenced « Haïti Market » (Harmonia Mundi), ambitious African jazz suites beyond the boundaries of world music, and wrote an Afro-Opera based on the history of African diasporas living on the French soil. The Paris premiere of « Knowledge Identity Reconstruction » in 2007 created a great deal of controversy, while addressing the issues of French colonial history and the shapes of Modern African Art forms to come.
Last December, Franck returned to Cameroon and recorded his forthcoming album with Bikutsi Music Legends LES TETES BRULEES (Jean-Marie Ahanda, André Afata, Ateba)… After years spent in the shadows of better-known acts, this new release will help him receive the recognition he deserves as one of the very few authentic inheritors of this Weapon of the future called Afrobeat Music.
HYPERLINK « http://www.myspace.com/franckbiyongandmassak » www.myspace.com/franckbiyongandmassak
www.facebook.com/franckbiyong